1-DAY VIPASSANA COURSE IN BRATISLAVA
Yoga/pilates studio Tina Klub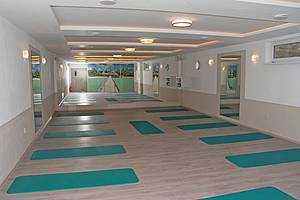 The course will take place in yoga and pilates studio, which is located in Bratislava, city part Devinska Nova Ves, on the street Pod Glavicou 1, behind the Lidl store in a new white building on the ground floor.
Capacity of the studio is approximately 16 meditators.
Please bring a meditation cushion, blanket and slippers. There are meditation mats. Bring with you a vegetarian lunch (without eggs) please. There will be kettle and selection of teas provided.
Program:
8:45 Arrival and orientation talk
9:10 Start of the course
16:00 Expected end of the course
Noble silence and all the other rules of a 10-day course are followed.
Program in detail HERE
Address
Tina Klub
Pod Glavicou 1
Bratislava – Devínska Nová Ves
MAP
How to get there
Bus to Devinska Nova Ves is number 21 from the city centre of Bratislava. It departures every 10 minutes. You need to get off the bus on the Stefana Kralika bus stop. The journey takes around 27 minutes.
Link to bus timetable: http://imhd.sk/ba/cestovny-poriadok/linka/21
Contact
Peter Belko
+421903423669
[email protected]